Race Report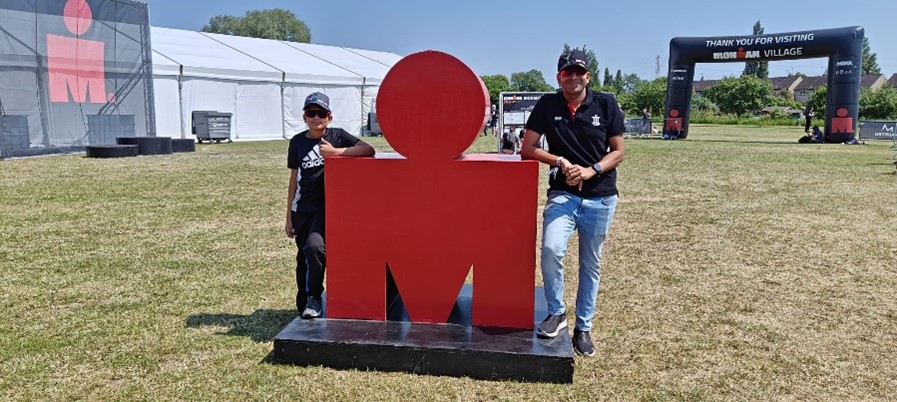 IM 70.3 Staffordshire: 1.9 Km Swim+ 90 Km cycle+ 21.1 Km run.
Some call it madness, some call it extreme, but I find the whole process of triathlons fun and exciting and a great mimicker of life. The discipline and organization that the race teaches you is a great life lesson. While it may be recognised as an individual sport but one cannot sustain it without the support of family and friends.
My 2nd Ironman event, and this time I thought I would be doing it in a cooler climate after the 40 C+ heat of Goa. But no, England had to go through a severe heat wave in the week of the race with the temperature crossing 35C.
Training had gone well since Goa, especially my cycling and running, which had improved a lot so was hoping for a great time but Staffordshire had different things in mind.
Pre-race: Split transitions with both of them being an hour apart made this race a logistical nightmare. I'd spent the day before driving between the 2 places. The swim takes place in a protected reservoir, so the practice slot was open only for an hour and I ended up missing that.
The sun was brutal and hot and with all the travelling, things became tiring.
Race Day:
Getting my composure, ate something and then after a leisurely 13 minutes, started on the cycle.
Swim: Lot of firsts here; first time in a wetsuit, first time in cold waters, first time in a reservoir.
There was a feeling of apprehensiveness but not enough to scare me off. The course was well marked out, except for the last part which was confusing. The water temperature was announced as balmy 17 C but felt cold to me.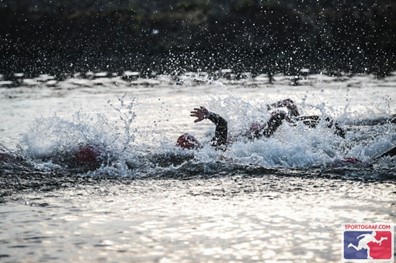 The swim started off comfortably, firing up hopes of finishing up at around the 45-50 minute mark. The second half had different plans for me. I was hit by a sudden bout of weakness and weariness and ended the swim at 57 minutes, dazed and confused.
I then walked to T1 and saw that it was nearly deserted with very few bags and cycles left. I knew my target was out of the window now, but I still wanted to finish the rest of the race strong! I took my time getting my composure, ate something and then after a leisurely 13 minutes, started on the cycle.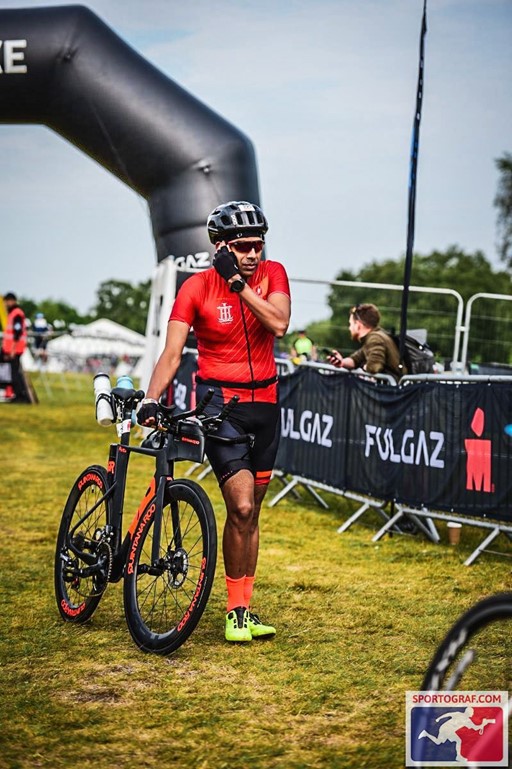 Cycle: 840 mt of elevation, bumpy roads with repeated bottle losses, sharp turns and no flat sections made it one tough route. The first 10 km were so bumpy that I lost my bottle 4 times, and it was too early in the race to sacrifice my nutrition, so I had to go back and pick them up. I would also end up pushing the cycle up a certain climb as it was impossible to ride up the hill. An easy 10 minutes must have been lost in this.
After that the roads became smoother but the tarmac stayed rough throughout (notorious English roads). There were hardly any flat stretches of road, and it felt like one was always climbing. The countryside otherwise was beautiful and the people were out sitting in front of their houses cheering us on.
Like Goa, it was wonderful to whiz past people and places on the bike but was still below my target power. I did the best I could, kept a decent pace, and managed to finish the cycle in just over 3 hours, which would have been well under the time if I had not lost my bottles. T2 was not too bad but it had a definite scope for improvement.
Run: It had become hot now, the sun was blazing, there was no cloud cover, and most of the route was without shade.
Staffordshire is famous for its castle and as all castles are on top of a hill so you had to climb it twice! Nearly 200mt of elevation made the run tough and the heat (33 Celsius on my watch) made it tougher!!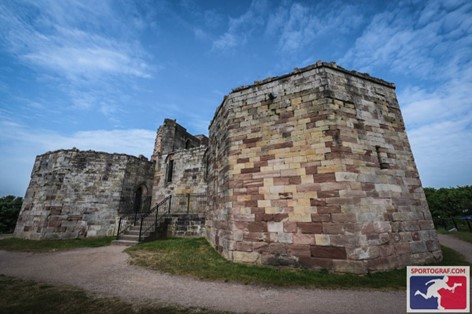 Suman and Daksh standing and cheering on each loop was the best part of the race and kept me going throughout the run. I finished the run in 2 hours and 17 minutes, slower than I had hoped for.
The total time of 6 hours and 34 minutes was not what I expected but still a good improvement over Goa. From being a neurosurgeon in New Delhi to running in this gruelling race in the UK, it was a wonderful experience. Here is looking forward to more exciting challenges ahead.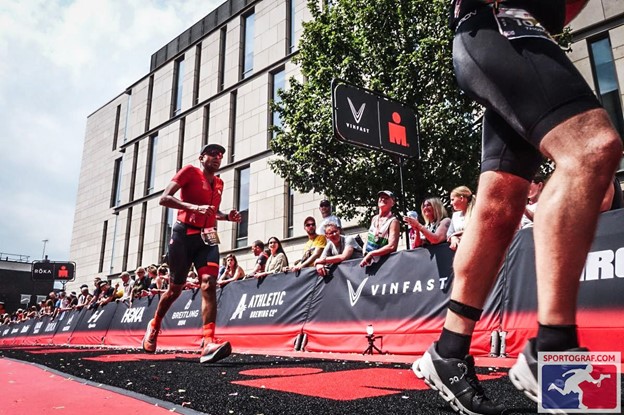 Thanks to my coach Tony for getting me to where I am, to our boys at Trihard for keeping each other motivated and to Daksh and Suman for bearing up with all the training, race stress, and frustrations.